I think it's Mama M that hates the word meme...sorry, mama!! :)
Today is 5QF! One of my favorites. If you wanna play along, answer these in your own blog & then head over to
My Little Life
& add your link to the blog hop!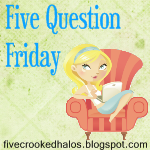 1. How many pets do you have?
One. A dog named Fievel. Isn't he cute?! I love him!
2. If you could switch places with anyone in the world for one day, who would it be?
Only if it was for one day... & i think i've said this before... but Amy Adams, my favorite actress. Preferably on a day when she's filming a movie. Or any random ensemble member of a broadway show. :)
3. What is your favorite money saving tip?
I definitely am saving a lot of money by packing my lunch for work instead of eating out all the time! Not to mention, it's WAY healthier! :)
4. What do you want your kids to be when they grow up?
As far as career? That is entirely up to them & i hope they don't settle. I hope they pursue what they were born to do. :) Though of course i would prefer them NOT to be in any dangerous field! Worry their mama to death! :)
5. What is your favorite quote?
Your turn! :)