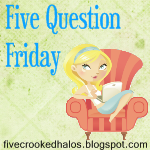 1.) Tube socks, calf socks, crew, ankle or none?
I LOVE ankle socks. Old Navy ankle socks are the best. Those are the ones i wear to bootcamp or anytime i have on my Brooks. I will also wear them at home if my feet are cold. But mostly at home I'm barefoot. And i love wearing flip flops too. :)
2.) Was your child's (or children's) name a mutual decision or was it a debate? If you don't have children, do you plan on giving your spouse a say or is there a name you MUST have whether he likes it or not?
Well, he has a say, of course! But luckily the names I like, he likes too. :) He has one name he is set on, but i love it so we're good! (He often suggests CRAZY names though, as a joke...)
3.) What is your favorite type of weather?
Sunny with a constant cool breeze. Somewhere between 68 & 78 degrees. NO humidity!
Ahhhhhh.
4.) If left to your own devices, what time would you wake up everyday?
8:30 sounds like heaven. Although even if i don't have to set an alarm I'll get up at 7:30 or 8. Unless i've just had a really exhausting week, in which case i'll sleep a little longer.
5.) Have you bought your cemetary plots yet?
Ummm, no.
Your turn!
Happy Friday, Ya'll!