Okay, so... my blog is *obviously* mid-makeover. I know it's not pretty. But it will be. So just, please...overlook the mess. :)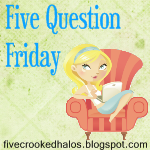 I mentioned in my last post that I have the most boring blog ever. All i do lately is memes. But i did not promise to stop doing said memes. I just would like to have some deeper posts as well. And I'll get there. Soon. But first. Five Question Friday.
1. Do you apologize to your kids?

I will if i am in the wrong. I remember mine doing that & it meant a lot to me. It shows that humility is good. That it is okay to be wrong sometimes. But it won't be like Full House where in the end, the parent is always wrong. Just sayin.
2. What color are your nails right now?

I never paint my fingernails. I feel like they're too short. But i want to grow them a bit & start painting them. My toenails are Opi Cajun Shrimp. Love.
3. When you were growing up, how difficult was it for you to stay home from school sick? (As in, did you have to vomit or just say "i don't feel good?")
I had to be REALLY sick. I had to vomit or be running fever. Mom was strict! I do know that I fooled her a few times... I'd be scared to go for some reason (a test or speech or mean girls) & i'd fake it... sometimes she bought it. Sometimes she didn't. But there were also times where I truly WAS sick & she'd make me go anyway, thinking i was faking it! Haha.
4. When is the last time you bought a new comforter for your bed?
We're using the Potterybarn quilt that we registered for. Mom & Dad bought it for a wedding gift. It's been on the bed since we got married. I love it!
5. Favorite Websites?
Just blogs... visit my blogroll to see!
Happy Friday!