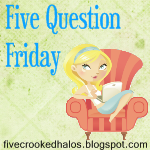 It's Friday, yay! Actually, not yay. This means that my vacation is just about over. Back to work on Monday! And actually i have to work at the theatre Saturday & Sunday! At least I have today off! :)
I haven't done this in the last two weeks, which is kind of bizarre for me. Definitely joining in today...& i don't even know what the questions are yet!
Well...here we go!
1.) What is your favorite summer time activity?
Unfortunately, summer time is just like any other time. Work!! Ugh. But swimming is my favorite. i hardly ever go swimming at home. But i just spend a week in Florida & I enjoyed swimming several times! My arms, shoulders & back got some sun, too!
2.) Do you have a laundry soap you stick to, or do you just buy whatever's on sale?
We stick to the one that is the cheapest. I think it's just the Great Value brand. I don't love it, though. Maybe I'll choose something different next time.
3.) What is your favorite dinner to make in the summer?
I am finding that i don't like to cook as much in the summer. It's too hot! Besides, all my favorite things to cook are comfort foods - aka, better to eat during cold weather! Hmm...I make an
awesome turkey burger
, though! I haven't actually made it this summer, but that would be a yummy summertime dinner!
4.) Do you have any talents?
Acting & Singing are my fave. And Stage Managing...that's a talent, right?!
5.) If you could be an expert in something, what would it be & why?
I'm going to say cooking. Or health/nutrition. I'm already very interested in both subjects, but I would love to be an expert in them! :)