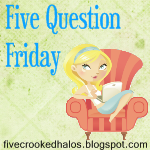 Time for 5QF with
Mama M
. Yay!
1. If you had the opportunity to bungee jump, would you?
I'm kind of surprised by all the bloggers i know saying NO!! I do not consider myself a daredevil in any way, but i would love to go bungee jumping! Do you know how much FUN that would be? Except for one thing... I'm pretty sure that once i was all harnessed in & ready to go... well, they'd have to push me before i chickened out!
2. Would you rather go to the movie theatre or the drive-in?
I've never been to a drive-in. I like our movie theatres though. Perkins Rowe is my fave.
3. Do you have your groceries delivered?
Seriously? Who does that? The only people I can think of who would do that would have to be people who have money to throw away! I am also kind of strange in that i LIKE grocery shopping.
4. Eyebrows: Do you wax, pluck, thread or stay au naturale?
Wax. And i LOVE it. I love the way it looks when she's done. And honestly? It doesn't hurt. I know, i know... you're saying, "yes it does!" But it'd doesn't... you get used to it...& you brace yourself... & it lasts less than a second, if that's possible? It's a breeze! Now, plucking? OW!!!
5. Would the people you went to high school with be surprised by your life today?
Hm...I don't think so... in some ways, maybe. I don't know!
Okay...your turn. And happy Friday! :)