MISCELLANY MONDAY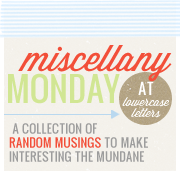 1. I got my laptop back today. Oh, yeah...recently? I spilled coffee on it. And then it wouldn't work. Thankfully the spill hit the cd player....therefore, it missed the motherboard. YAY! They had to replace the keyboard & the cost was a lot less than I was expecting!
2. I lost my job recently. And i am finding that I hardly even think about it. I sent my resume to 20 or so places... something will turn up by the end of October (when I have to be out of my current job). No worries. It will happen. :)
3. I found out today that I am down 11 pounds over the last 8 weeks. THRILLED! This is 18.6 pounds total. ABSOLUTELY ECSTATIC!!!! It's WORKING, ya'll!
4. I have a list in my head about a mile long of people i want to send baby gifts to. Babies keep being born! :) I am sooo excited for
my friend Patti
who just had baby Everett! I hope I get to meet them one day!
5. Three sweet little girls that I know got a baby BROTHER this week!
Their daddy is Brad's cousin. SO CUTE! I can't believe they got their boy! His name is Cayde. Can't wait to meet him! I love that family!
A book by Beverly Lewis (one of my favorite authors) - i just started reading it & it's really good so far!), a cute little notebook that i keep in my purse, a cute blue wallet, some bangle bracelets!!!, some apricot lotion & body spray (smells soooo good!), and a sweet card from Callie. Oh, and Callie, i didn't notice there was also apricot lip gloss until i went to put the box away! I LOVE lip gloss!!!! Kind of obsessed. So thank you! :)
7. I have been sick. Went to the doctor yesterday & am starting to feel better today! YAY!
8. I have a giveaway going on
here
. Check it out! :)
9. I made
this recipe again recently
& it was SO GOOD! The last time I blogged it I did not have my current camera & did not take pics... but I did this time! So the post is now updated. Check it out, because it is SOOOO YUMMY & healthy! :)
10. Oh wait. I just realized today is TUESDAY. HAHA! I guess that's what being home sick does to ya?!?! I guess this is NOT miscellany monday. I guess we'll call it... "Tuesday Randoms"? Sorry... i'm terrible at coming up with titles. HA!