Loving this week. Despite still being extremely congested, I am feeling much better than I was this weekend! Last night we went to eat at Mike Anderson's for my sister-in-law's birthday & I managed to eat very well (despite being surrounded by carbs & sweets & fried foods!). Work is kind of crazy but not in a bad way & I am excited about my new blog designs. I did this one this weekend while I was sick. You like it? I just needed a change! And I did the one on my other blog yesterday. That one has a whole new name now & I am really excited about it!
Check it out
! :) 
So, how are you? How is your week going? I just finished reading The Guardian by Nicholas Sparks. Oh.my.GOSH. Great book. NOT the romance I assumed it would be. Oh, there's definitely romance involved, don't get me wrong. But it is much more suspence. It's been awhile since a book kept me up late reading wayyy past my bedtime, but this one did that.
Now what to read? I really want to read The Help. Three of the stars are on the cover of my Entertainment Weekly, which I got yesterday. I cannot wait to see that movie, and I really should read the book first!
Not much else to say... just procrastinating, I supposed, from the actual work I must do! Before I run, I think I'll answer some questions from
Night Owl Crafting
! I just found this blog today after reading
Pinklets
!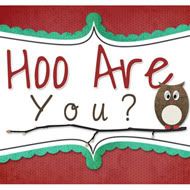 1. Do you workout regularly & what do you do?
Yes, maam! I do Bootcamp 3 times a week & Zumba 2 times a week. I miss every now & then, but as long as i make it 4 times a week, I am okay with that! I have been doing bootcamp since January & it's an awesome class that will work your tail off!! I just started Zumba in June & honestly, I have never SMILED so much while working out! HA!
2. Do you have any weird sleeping habits?
No, but I do tend to get really hyper just as we're going to bed. It makes my husband crazy! HA! (He gets me back in the morning, since he is Mr. Talkative & i would rather be up for a bit before communicating with anyone!)
3. How often do you vaccuum?
Ohhh, man... not enough. I'll just leave it at that.
4. Do you accessorize & if so, what is your favorite thing to accessorize with?
I must have earrings in... I feel naked without them. Other than that, just a necklace...sometimes I'll get REALLY crazy & wear a bracelet. ;)
5. What is your favorite drink during the summertime?
I really can't have a lot of sugar anymore, so I drink nothing but water during the day. But i do love lemonade & sweet tea!
That's it!
Play along if you wanna
!