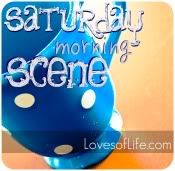 I have never participated in Saturday Morning Scene before!
But my friend Mary took this picture & I had to share.

This is OUR Saturday Morning Scene, thanks to Tropical Storm Lee! Yikes!
All I can say is... at least he's not a hurricane??? I have been here for 3 of those now... that I remember (Andrew, Katrina & Gustav) & I know those are not fun! Still praying for my friends along the east coast!
I got up this morning, ready to go to my bootcamp class (which I have missed for a week due to being sick!). Not happening! The street at the end of our driveway was flooded!
I texted my bootcamp buddy to tell her I wasn't going to make it & she isn't either... she had already lost electricity! My sister lost it too. Amber lives about 45 minutes away & my sister about an hour & a half away. So far, I'm good. Fingers crossed that it stays that way!
Today was supposed to be "date day" with my hubby. It's been too long since we've gone out on a date, just for the fun of it! We were gonna do a LITTLE shopping (I need an outfit to interview in! Plus we wanted to go to the bookstore), see "the help" & have dinner. Looks like that is not happening today. Maybe tomorrow! Or Monday, since we're off for Labor Day?
Oh, nice. Looks like the weather clears up just in time for work on Tuesday! And notice the 100% humidity...that's why even 76 degree temps can be GROSS here! Ha!
Yikes!
But I'm home, safe & cozy. Life is good.
What does YOUR saturday morning scene look like? Link up
here
!