Here I am, sitting in my hotel room with my mama. Tomorrow is my sister's wedding day. I am excited! It has been beautiful here. Weather in the 50's & 60's... pretty chilly at times but nothing unbearable! It's going to be perfect for a wedding!
The rehearsal & rehearsal dinner was last night. I will upload pictures and all that later, but yeah - we had a good time! The rehearsal dinner was at Andrea's Italian Restaurant. It was really good!
Today, after sleeping in, my mom & I went around looking for some shoes for me. The navy ones i wore last night were SO PAINFUL! I have no idea why. The heels aren't even that high. We didn't find anything so i just wore them again for the tea today. We had tea time at the Ritz Carlton & it was fabulous! Again, pics to come! And tonight, the wedding party (+ some friends of the bride & groom) met in Michelle's suite & had champagne. The guys went who knows where & the girls went back to the Ritz to hear a jazz band. We didn't stay too long - it was getting late & we have a long day tomorrow!
Mom & I got back to the hotel & ordered room service for dinner! YAY!
We have had a wonderful time together & i am looking forward to tomorrow. I am just praying Brad gets to come. He is an usher in the wedding, but i really just want to share the day with him. Plus, if Granny dies I want to be with him for that, too, you know? They were very close. So far she is still with us, and he is planning on coming tomorrow! I am so thankful! I am just trying not to get my hopes up! But I can't wait to see him in his tux. We are supposed to spend the night & go to the zoo on Sunday, as long as we don't hear anything about Granny. I'm pretty excited.
Backing up...
Wednesday night we received word that it would probably be Granny's last night with us. Brad packed up his music equipment & we headed over there. She had requested earlier in the week for him to come play, and so that's what he did for hours last night. We all gathered in her room and spent hours crying, laughing, talking & singing. Brad played some beautiful music, mostly hymns and worship songs, and I know Granny was so thankful. She was out of it most of the time, but they believe she can hear what's going on. She did wake up a couple of times, but she slept for the most part.
I cannot think of a better way to go home, than by having your grandson playing worship music for you and your family surrounding you.
Brad told me today that she woke up on Thursday & said she heard him playing for her & the rest of the family singing. So she was aware of what was going on. I think that is so special. And beautiful. Her last memory. She slipped into a coma today, so it won't be long now. She's lived a good life.
Well. Tomorrow is the big day! I already have tons of pics to upload!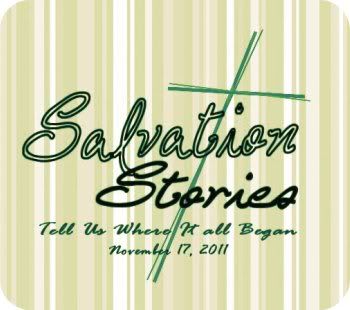 P.S. On a totally different subject! Callie at
Through Clouded Glass
is doing a link-up that I hope you all participate in. I've been meaning to mention it so you would have time to think about what you want to write. In light of Thanksgiving, she was thinking about the things she is most thankful for & of course she thought of her own salvation. That's something you always thank God for, right? She realized she wanted to blog her testimony & decided to make it a link-up. I got to thinking & realized... I don't know any of your stories. Of how you came to know Christ. And I don't think I've talked about mine either, other than mentioning little things God has done for me along the way. I know that most of you are Christians, but I would love to hear about how you came to know Him. I know some of us have known Him since we were very young, but there is still a great story in there!
Link up
will be next week - November 17th. Join us!