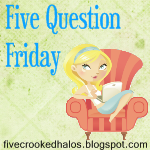 Just felt like answering some questions for ya!
FIVE QUESTION FRIDAY
Link up here!
1. Are you a napper?
Yes. Yes, indeed. I am not one of those people who cannot take naps. A one hour nap for me can cure a bad mood, make a headache go away, or give me just enough energy to make it through the rest of the day.
2. What was your favorite subject in school? Most hated?
Favorite: English & musical theater in high school. Psychology & Speech in college.
Least Favorite: Science & math in high school. Science & Math in college.
3. Did you have the something new, old, borrowed, blue at your wedding? What were they?
New was my dress.
Old was my late papaw's hankie, wrapped around my bouquet.
Borrowed was my jewelry, from my sister.
Blue was some cute little decals on my shoes. :)
4. What one thing are you determined to do this summer?
Just enjoy it!? Maybe find a pool?! We can't go to the beach or anything this year... I haven't accrued any vacation time at my job. I knew i wouldn't be going anywhere this summer, but just in the last few days i've been bummed about it. CRAVING a road trip to the beach or something!! Oh-well. I definitely have a fun June ahead! :)
5. Ice cream or popsicles?
Snowballs. :)
source