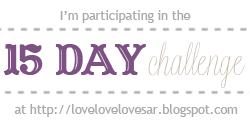 Still catching up on the 15 Day Challenge!
Day 6: What's something you've always wanted to do, but haven't? Why not?
This was a toss-up between acting, writing and travel, but i went with acting & writing, because those have ALWAYS been dreams of mine, which is what the prompt suggests. Travel is a more recent desire, and man I want to go to Europe and to several states in the U.S. And now, to Africa. Pretty much all over. Why haven't I? MONEY. I should have saved & done this in my twenties. But now I'm in my thirties, married (to a sweet but not very adventurous guy!) & trying to save for a house & other necessary things. Travel might have to wait for a bit!
As far as acting, well. I really have always wanted to get headshots done, get an agent & get in commercials, tv shows or movies. This is easier than it sounds to some of you and harder than it sounds to others of you. I believe it's doable though, but there's this thing. You have to AUDITION to get cast. And man, do i hate auditioning. I really really hate auditioning. This is actually FEAR causing me to not do something. Lame, i know.
I also would love to be a writer. I found this was common among us bloggers, maybe that's why we're bloggers - because we like to write. Haha. I have a LOT of unfinished novels under my bed. And one devotional for teens. None finished. I don't finish things. I stop when i get bored. It's sad, I know.
So that's my three things. Maybe someday?