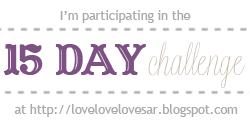 Day 9: Tell us the best day of your life to date.
I was going to write this about different moments of our wedding and about our honeymoon. But then i remembered a REALLY good day, and i just had to share that one. :)
For those of you who don't know our love story, some background: Brad was actually my first serious boyfriend when I was 19 years old. We dated for a little over a year & then we broke up. For YEARS after we broke up, I still believed he was "the one". I was CERTAIN. I just figured God would bring us back together in His time. I know my friends got tired of hearing about him, i know they were ready for me to move on. I finally did move on. And i spent all of my twenties single. I wondered about him often, figuring he had long since been married, probably even had kids. I never dreamed he would be back in my life.
Us - October 1997
Our breakup was in January of 1998. He got in touch with me in December of 2007. It was the craziest thing EVER. I figured maybe he was the one & kind of hoped so. At this point, I was 29 and really beyond ready to meet the guy for me! But after 3 dates it was obvious that he was definitely NOT the one. Nice guy. But not the one for me. Only... I got home one night to find an email from him. We ended up emailing & talking about things that had happened in our relationship ten years ago & it was CRAZY but most of the hurts that happened back then were GIANT misunderstandings. We didn't see each other at all during these emails (which occurred between december & february) because we recognized that God was doing something through them. But our last email was the day after valentine's day & we were officially official on 2.16.08.
I tell you all this to say that the best day of my life may very well be
FEBRUARY 16, 2008!
He came to my church. We went to eat at Carraba's afterwards. Then we went to my place and spent the entire day together. We became best friends again. We took a long walk where i was scared to just hold his hand! It was so stupid! We already KNEW that we were going to get married (You don't play around when you're nearly 30!)! FINALLY at the end of our walk, he grabbed my hand. And then we had to walk the neighborhood AGAIN instead of going back in because we were finally holding hands & didn't want it to end so soon! HA!
But can i tell you? I was falling in love. Again. Except he was so different now. The same, but different. Older. Wiser. Better-looking, even! Haha! And everything from our past was set right. Not that anything horrible happened! But we were just not on the same page back then, and so immature.
I could say when he first got back in touch w/ me was the best day of my life, but that was more confusing and crazy and a little awkward! This was the best day because it was romantic, we KNEW that this was IT, and it felt like we were falling in love for the first time (even though it was actually the second time).
Us - February 2008! This may very well be 02.16.08, but if not it's within a week or two after that. :)
We were engaged a month later & married by the end of the year. And he was SO worth waiting for.
You can read all the details in our love story (see tab at the top). This was the short version! Haha.