Hello! And Happy 4th of July!
I have had a great day. Met my mom for breakfast at Another Broken Egg. LOVE that place. The food was delicious... I had the amazing "farm fresh" omelet which includes eggs (obviously), cheese, broccoli, onion & diced tomatoes. Oh, my. SO GOOD! After that we went to Macy's where mom bought me LOTS of clothes! Yay! We got some fantastic deals. I love Macy's.
Ran into a theater friend, Kurt, & his family at the restaurant & a long lost steel magnolia, Dana, at Macy's. LOVE her & hadn't seen her in FOREVER! She reminded me that she reads my blog, so... Hi, Dana!! It was great seeing you! :)
Now. On to the 4th day of the 15-Day Blog Challenge. (I missed days 2 & 3. I know. Terrible.)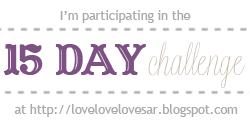 Today's Question: What is your favorite childhood memory?
Wow. What a question! I have lots of random childhood memories. As we were shopping in Macy's today, I told mom that i still remember getting lost in the upstairs of Godchaux's Department Store (which no longer exists. Also, don't ask how I know it was upstairs?). I was mad & pouty & therefore, looking down at the floor as we walked & somehow ended up not going the same way as my mom. And she didn't see either. Next thing I remember, i'm standing on top of a counter top while the sales associate made an announcement so my mom would know they had me. She came running, crying, and hugged me hard! Haha. My mom has no recollection of this event.
It always amazes me to think that i was small enough for someone to stand me up on the counter of a store. I mean, wow. Haha.
Obviously getting lost was not my favorite childhood memory!
Here are a few favorite memories:
-Family vacations. We went to the beach & to Houston (Astroworld/Waterworld) a lot. We also had some other pretty fun vacations. Tennessee was the best, but i was a teenager at that point.
-There was a neighborhood pool called "Holiday Acres" that we had a membership to (for those of you that are local, it is now called Camp Istrouma & it's not just a pool anymore.). I have memories swimming there with the family. I also have a memory of riding bikes in our neighborhood & meeting up with my sister, a friend she had over & a friend I had over. My sister, in typical Michelle fashion, instructed us to all pinch our cheeks to make them super red, so that when we got home, we could beg dad to take us to Holiday Acres and he would be so sympathetic to how hot we were (b/c of the super red cheeks, you see), that he would take us to the pool. So we all complied (pinching our cheeks), road our bikes home, begged dad...but he refused to take us! Sad day! Hahaha.
-I remember my kindergarten teacher, Mrs. O'Shee, telling us about Jesus & telling us that if we wanted to ask him into our hearts to stay in at recess and she would talk to us more about it. I stayed. :)
-I remember picnics in our next-door neighbor's front yard with my sister, the two next-door neighbor girls (Loren & Tisha) and another girl that lived in our neighborhood (Sonya). I remember we each brought different foods, but someone ALWAYS brought tang. Not mixed with water. Just to eat the powder. (I know. Sick.)
-I remember the girl who played the angel in the fourth grade Easter play no longer being able to do it for some reason & me hearing the teachers trying to decide who could do that part. I went up to them and BEGGED them to let me do it. They agreed. Made my YEAR! I still remember my lines (all two of them!).
-I remember my now sister-in-law breaking her arm at my 9th birthday party. It was awful!
-I remember being at church a little early one Sunday and everyone was mingling. I remember wanting to talk to the pastor. Someone else was going to greet him, though, so i waited my turn. When the pastor went to hug the guy who was greeting him, his hand went forward & hit me in the mouth!! Hard to explain without you seeing me, but i was just a kid and therefore, short! So as his arm (which was holding his Bible) went forward, I was hit right in the mouth! Anyway... he realized what he had done, kind of chuckled, but made sure i was alright. Later, in Sunday School, i felt around in my mouth with my tongue & discovered an empty spot - he had knocked my tooth out!!! Hahahaha! I just remember being horrified that i had just lost my tooth, thinking maybe i had swallowed it. But it was just resting inside my mouth!

-I remember waking up Christmas mornings at my grandmother's house. We couldn't open gifts until mom was up, and we couldn't wake her until a certain time. But we would wake up super early & just sit on the stairs together. We would stare at the Christmas tree. It was magical...all lit up with presents underneath.
Oh! This one might be the BEST childhood memory...
-I remember going to Sonya's house (my neighborhood friend) nearly every day and jumping on her trampoline for hours. I remember one day my sister walked over there & told me that mom & dad said it was time to come home. I was SO upset. I was having WAY too much fun and didn't want to go home anytime soon! I whined a little - or maybe a lot, i don't remember, but got off the trampoline & walked home with my sister. Once we got to our house, instead of walking in the door, she covered my eyes & led me around the side of the house to the backyard. I remember feeling so confused! We went through the gate to the backyard, she uncovered my eyes, and!!!!! There was mom & dad just finishing putting together a TRAMPOLINE!!!! AHHHHH! I think i was the happiest kid in the world that night!
Well, that's all i got for now. And here is a picture! Sorry... i think i've posted this one before. My mom has all our pics and none of them are scanned on the computer! I'll do that one day!
I am the one refusing to smile, front & center. :) And my sister, my mom & my cousin, Ben. (I have a lot of pictures from this age where i literally bit the inside of my cheek to keep from smiling!)

-