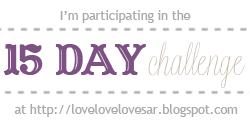 Today i saw that two of my favorite bloggers,
Laura
&
Katie
, are participating in this little challenge. Looked like fun, and besides... I need a little blogging challenge these days! It's just 15 Prompts for 15 Days. Join in!
Today's Prompt: 15 Fun Facts About Yourself.
Alrighty... I'll try to make this interesting.
* * * * *
1. I will never forget a birthday. If i have ever known your birthday, I probably still know it. Basically, I wake up every morning, grab my phone to silence the alarm, notice the date & think something like this: "Oh, today is October 8th. It's Amber McIntyre's birthday today." Fake last name, but Amber was my best friend for several years starting the summer after 2nd grade. I haven't seen her in probably 20 years. And yet...every October 8th... she pops into my brain.
2. It's not just birthdays. It's other dates too. June 5th - the date we moved into the second house of my childhood. I was 10. Random.
3. I am extremely forgetful about everything else. So much so that I mostly got in trouble for saying the words "I forgot" growing up.
4. I like being told I look like Reese Witherspoon, but it gets awkward for me when the person says, "Has anyone ever told you that before?" Maybe i should just say no? Because saying, "yes. all the time." sounds a little bit like i think i'm as adorable as Reese Witherspoon. Which i do NOT.
5. I love riding horses, but refuse to ride another one until i lose weight. I know that is probably silly, because I'm pretty sure they have carried more weight than me before... but still... I would worry that the horse was thinking, "REALLY?!?!". Again...not logical. I know.
6. One thing on my bucket list is to go on a missions trip with my husband. I have been on two missions trips before: One in 1997 to the country of Panama and one in 2005 to the L.A. Dream Center. I realized about 3 weeks ago that I want our missions trip together to be to Africa. Our church supports missionaries there reaching out to the Pinyins... they're in the process now of putting the Bible in their own language, something they don't have yet, and next time they go it will be to give them their new Bible. I want to GO!
7. I love married life. So many tried to discourage us, saying it would be hard and awful and blah blah blah. But we love it. It has its hard times, don't get me wrong... but i am being honest when i say i do not get sick of his company. I want to be with him all the time. We're two peas in a pod. I actually miss him when I'm at my work and he's at his. I know. Disgusting.
8. I want kids. Like, yesterday.
9. After watching back-to-back episodes of Law and Order: SVU from Season 7 to Season 11 on Netflix (I'm now a few episodes into Season 12), I have developed a girl crush on Mariska Hargitay. And Olivia Benson. (That's the actress & the character she plays, for those of you who don't watch this show.) LOVE HER.
10. I love to cook. I love coffee. I love to read. I love to sing. I love taking pictures and am getting better at it. My favorite apps are instagram, pandora, and pinterest. (I think this is cheating.)
11. I wrote in a journal starting at age 11 when my friend Ali gave me one for my birthday. I have kept every one of them. They're all full of my thoughts, dreams, desires, and prayers. They're in a container under my bed.
12. I also used to write novels, but i never finished a single one. The first few chapters of several novels are also hidden under my bed.
13. My husband is an amazing piano player, organ player, arranger, composer & orchestrator. I love hearing him play. Very, very talented guy I married. He composed & orchestrated the song i walked down the aisle to. If we can ever find where he put it, i will post it!
14.There is not a crafty bone in my body. In fact, i used to teach preschool and the only thing I ever got reprimanded for was not changing the bulletin board in my classroom often enough and not doing enough crafts with the kids. I was great with the kids, don't worry! Just wasn't a big fan of crafts. Haha. This is why my DIY board on Pinterest is called, "Crafty is My Middle Name". I hope people know that's sarcasm.
Side note: I did scrapbook for years. But my designs were always very, very simple. And i eventually quit. Two words: photo. books.
15. I am a "drama nerd". I was in high school, but exactly ten years after i graduated, i auditioned for a show at our local theater...and the rest is history. LOVE being involved there, it is a huge part of my life. I have made some amazing friendships over the past 6 years, too. I love performing and stage managing. I hope to add directing and lighting design to my achievements there, one of these days.
So, there you go! Hope that wasn't too terribly boring! Haha! :)