Y'all. I am so glad to be home, I cannot even tell you! Man, oh man! I have felt horrible all day... But i had to go to work anyway. I'm still feeling kinda... blah. But at least the sinus headache from hell is gone!?!!! :)
It's Friday, though. And that makes me happy!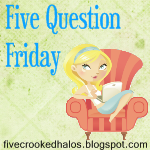 1.What cd/album/itunes download are you embarrassed to admit you have?
None. I just don't get embarrassed about the music i like. Maybe i should let you see & be the judge of which i SHOULD be embarrassed about?!
2. What's the one thing your spouse does better than you?
He is good at bringing lunch to work everyday and never eating out during the week. I really really try, as it's better health-wise and budget-wise. Mainly budget because usually when i eat out for work, i choose healthy, but that also means more money is being spent! I do well until we run out of groceries. Brad would be happy with a can of viennas. I am just not that easily pleased when it comes to lunch time! HA! So yeah... he can do a LOT better than i can, but that is the one i am most envious of! That and his piano playing! ;)
3. When do you start buying halloween candy?
Um... never??? I don't know. We don't buy a lot of candy. Last year, we stayed home and no kids came to our door... not a lot of them in our neighborhood. Kinda pointless for me to be buying bags of halloween candy. And also, not a very good idea because i would eat it!
4. Family closets - yay or nay?
Um, nay! Well, Brad & I share but that's enough... our kids can have their own closet in their room! (I've never even heard of family closets... except our friends living in Belgium say there is NO closet space so an entire room is where all of their clothes are - i guess they have a family closet, but not by choice!)
5. Which household chore do you hate most? Why?
The kitchen & bathroom floors are a pain to keep clean. And bathtubs. Ugh.