How about a little Q & A?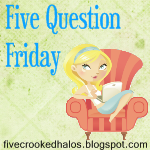 1. What terrifies you most?
Losing someone in my family or a close friend.
Not getting to be a mom.
2. Favorite fall/winter drink?
The pumpkin spice latte from Starbucks!
3. Do you & your spouse have the same political views?
Yes.
4. What was the last book you read? Was it any good?
The last of the Redemption Series: Reunion. They're by Karen Kingsbury. The whole series is SO good! Ready to start the Firstborn series, also by her.
5. Do you look forward to snow each winter? Why or why not?
Um... it doesn't snow here. I mean, it has maybe 5 times in the 34 years I've been alive. Only 2 of those times where it actually stuck to the ground for more than 10 seconds. :)