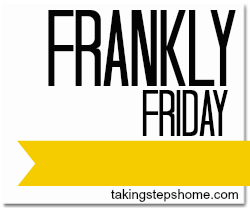 (Decided to add this little button since this post IS a bit frank & happens to be on a Friday. But if you don't know Part 1 of this story, you should catch up by reading
this post first
. And also, link up with
Amy
for Frankly Friday, if ya want!)
I cannot thank you enough for your kind words of encouragement and love after
Wednesday's post
. Seriously. Y'all are the BEST! (Also, that has to beat some kind of record for most comments I've ever received on a post. For real.)
To answer some of your questions:
No, no warning at all.
Yes, he did give a reason. It's just that it didn't add up with the other things he said.
I, too, was (& still am) confused. Oh, yes, and angry.
Just so you know, I do not wish anything bad on this guy (besides maybe that punch in the face!). He has a good heart, believe it or not. But he also has a lot of faults, faults that affect other people. The hilarious thing is that he said he will likely want me back in a year or so. Um, what? Really? Seriously? BIG NEGATIVE, DUDE! I don't want to PURPOSEFULLY work for someone who will let you go in a heartbeat, without any warning, whatsoever. Who acts on his whims, with a careless attitude towards whoever is hurt by his actions.
I do not hate him. I just am angry with him. And don't know how long I will feel this way.
I am not acting on this anger. Except maybe through vent-blogging. :) But i didn't actually do or say the things I wanted to do or say at the time. And I'm glad because it wouldn't have accomplished anything at all!
Even so, the anger is most definitely there. I can't look at his posts on Facebook, glance at his blog or anything of the sort without feeling some anger just rise up within me. The thing is, what he did was wrong, whether he believes it was or not. Even if he was right in letting me go, he should have talked to me first. Tried to work it out. Given me some warning. NOT A WORD until he was calling me in on a Saturday to find my packed up desk, my paycheck. Not a word until that day when he said, "So. This is it."
I will deal with the anger. I have acknowledged it, and have forgiven him "by faith". I know that at some point my heart will follow my words.
And I'm not saying all this to convince any of YOU, because nobody was all - "you better forgive him, melissa! unforgiveness will eat away at you like a cancer!" or anything like that. But it is true. I am sure I will be fine once a little time has passed. Once i get a JOB!
One friend sent me an email after reading my post & it greatly encouraged me in the Lord. And it wasn't any of those fluff sayings that people use when they have no idea what else to say. It really ministered to me in that moment. A part of what she said is this:
"After all of the talk about creation, Job has this revelation that God can do anything. What is it that Job learned from God's speech on creation that God is trying to teach us? God is saying that knowing the reason why is not what you need in the hard times. Knowing God and who He is will get you through the hard times. So what should we be praying in the hard times? God tell me more about you- Remind me of your faithfulness, love, how you take care of all creation..."
and then later in her email,
"Melissa, be encouraged! Your King- Jesus Christ, the Messiah, the name above every name, your Risen Savior- He has one more move! He is your Ram in the Thicket. He is your provider. Your provision. He has a plan and it is magnificent! The Lord is good forever!"
That really spoke to me, Jess, and I hope you don't mind me sharing it! :)
The verse where Job has the revelation my friend is talking about is in Job 42:1: And Job answered God, "I'm convinced. You can do anything and everything. Nothing and no one can upset your plans for me!" (The Message)
Y'ALL! That is the verse i am holding on to. It doesn't matter that i lost what I thought was the best job EVER. It doesn't matter that he laid me off the way that he did. Let God deal with that issue. What matters is that NOTHING AND NO ONE can upset God's plans for me! Nothing! And that is good news!
Also, God is providing for me a little along the way. My friends own a business that makes snow for kids (yes, we need that down south - since we don't actually GET snow!), but some events they sell funnel cakes & sno-cones. So i went with them yesterday and sold funnel cakes like nobodies business. I promise you: It was more fun than i have had on ANY day of any other job! Probably because it was a GORGEOUS day and was with 2 of my most favorite people!! I even got up before 6 am without (much) complaint!!!! ;) I will work with them again twice next week! Yay!
Thursday in Franklinton, LA
Me & Mandy, in between quick funnel cake assembly line action! We were a great team!
***IMPORTANT NEWS!***
My friend, Mandy (above) has started a blog!!!! I am SO EXCITED!!! Seriously. She is one of my most favoritest people and one of my closest friends! So, please go check out
her blog
! She just posted her first post TODAY! :)